Students
Welcome to the student section of our website. We're glad you've decided to visit us online and hope we have been able to provide you favorite musical instruments and accessories. Your decision to play a musical instrument is an experience that will provide you with years of excitement. As you may already know, playing a musical instrument has a number of benefits. There have been numerous studies done by scientists proving that playing an instrument does really make you smarter. Playing an instrument also teaches discipline, helps to relieve stress, improves time management and fosters the development of team skills, just to name a few.
Our website should prove to be a valuable resource for you in learning more about music. Visit our website often for new information, become a fan on our facebook page and remember to practice. Good Luck in all of your musical endeavors.
Instrument Care
Cleaning and maintaining your instrument is important to help keep your instrument looking and sounding its best. For more information on instrument care click here.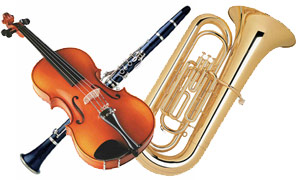 Student Links

for Exploration
A Passion For Jazz - Website for music history and education
Carnegie Hall Listening Adventures - Website to learn about Children's Music Workshop - provides a wealth of online information for anyone interested in music education
Classics For Kids - Great resource to for children to learn about classical music.
DSO Kids - DSO Kids club is for those who want to learn more about music and the people who make music. (Dallas Symphony Orchestra)
Mr. Holland's Opus Foundation - MHOF donates both new and refurbished instruments to school and after-school music programs
Musical Instrument Museum - Website to explore and experience the rich diversity of the world's music and musical instruments
Musical Scholarships - MusicScholarships.US is dedicated to helping music students find the right scholarship and financial aid providers
NAMM Wanna Play Music - The Wanna Play? campaign from the National Association of Music Merchants (NAMM) was designed to educate people about how beneficial playing a musical instrument is, and to inspire more people–from children to seniors–to become active players.
National Arts Centre - Website to discover the excitement of the performing arts
National Music Museum - The National Music Museum (NMM) & Center for Study of the History of Musical Instruments is one of the great institutions of its kind in the world.
Playmusic.org - Website with great resources for music education
Rock and Roll Hall of Fame - The Rock and Roll Hall of Fame and Museum, Inc. is the nonprofit organization that exists to educate visitors, fans and scholars from around the world about the history and continuing significance of rock and roll music
SFS Kids - Great resource for learning about music through the San Francisco Symphony
Sphinx Kids - Sphinx Kids is an extension of the Sphinx Organization's Classical Connections program, which brings classical music into underserved schools nationwide
The New York Philharmonic Kidszone - Great musical resource via the NY Philharmonic
VH1 Save The Music - The VH1 Save The Music Foundation is a non-profit organization dedicated to restoring instrumental music education in America's public schools.
Some of Our World Instruments